News
How to Choose a New Hair Straightener?
by Shopify Partner on Oct 19, 2022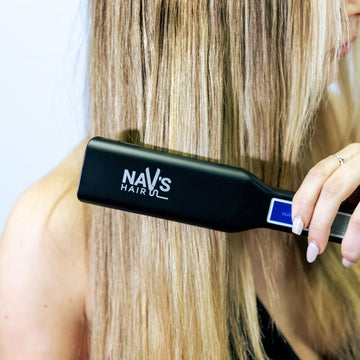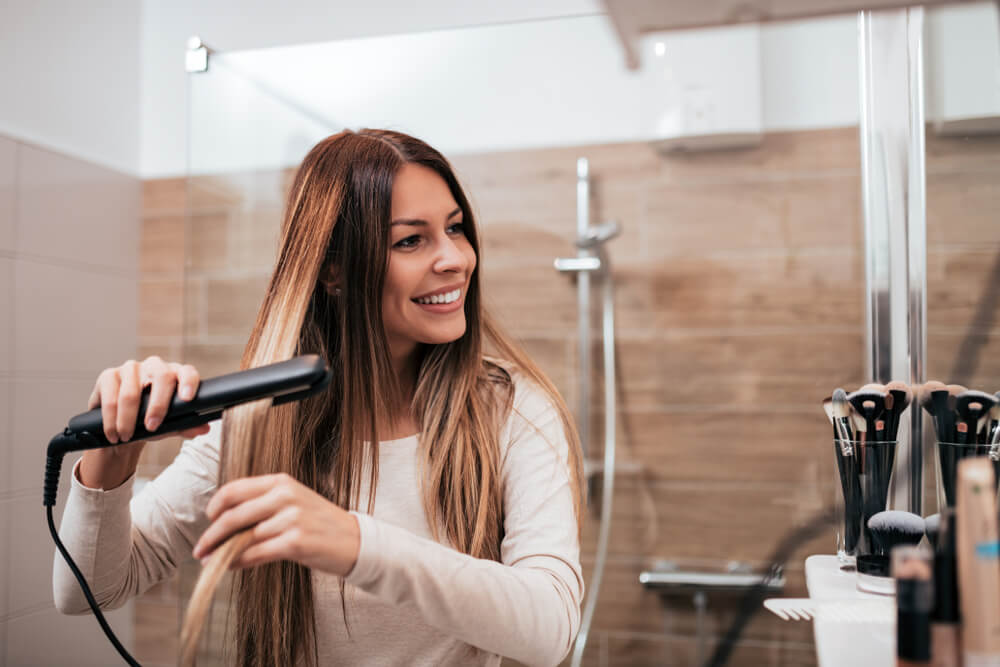 Though it might not sound like a particularly taxing job, there's actually a great deal to consider when it comes to choosing a new hair straightener. From ensuring your new heat tool won't completely damage your hair, to the type of plate you'll need depending on the thickness of your hair, and more.
To make things easier for you, we've compiled a helpful list of all the things you need to consider before purchasing the newest edition to your heat styling line-up.
What Do You Want Your Straighteners to Do?
Ha ha, very funny. We know you want them to straighten your hair. However, do you also need them to do other things? Like help to combat the look of frizziness, allow you to use them for curling as well as straightening, will you use them to style your bangs perhaps? 
These are all things we need to think about before choosing which straightener is right for our needs…
Choose The Right Straightener For Creating Curls
If you do decide (or already know) that you need your straighteners to also be able to curl your hair, make sure you look at their shape before you part with your hard-earned cash. 
The truth is, the majority of hair straighteners will create a curl if you hold them at the right angle and wrap your hair correctly before pulling them down. That said, not all curls will be created equal! If your straightener has a super straight or boxy edge, you're unlikely you'll get the beachy waves or tight curls you've been hoping for.
So, what to do? Look for straighteners that have a rounded edge! This way, once you've wrapped a section of hair in the desired way for the type of curl you want, the hair will glide much easier. As it moves through the plates and out toward the edge, the rounded shape will prevent lines from forming and ensure your curl gets the twirl it needs to look beautifully smooth.
Select The Right Materials For Your Hair Type
When choosing a new hair straightener, there are a few different options when it comes to the materials used for the plates. Aluminum, Ceramic, and Tourmaline.
You've likely seen all of these options before when trying to decide which straightener to buy. It's even more likely you don't really know the difference between or which will deliver the best results for your hair type!
Don't worry!
You're not alone…
Without research into each of these plate types, what they do, and why, how would you?! Well, to save you the trouble, we've done that part for you. You're welcome.
Ceramic Plates – Great for fine hair or hair that is easily damaged
When you desire super smooth, super straight hair, choose ceramic plates. You'll find these in the Colorful Seasons 8 Ocean Blue straighteners from Herstyler. Arguably the most popular, ceramic straighteners are perfect for even heat distribution and consistently maintaining high temperatures. You may find they take longer to heat up than other plates, however, this can be a good thing. Fewer mistakes will be made and they're much less likely to damage your hair over time.
Titanium Plates – Super effective for thick hair that takes a while to straighten
If you're after a straightener that takes minimal time to heat up, you might want to consider titanium plates, like the Herstyler Sleek Styler White 1″ Straighteners have. They also maintain high heat super-well meaning you'll get the job done much quicker! That said, it's worth considering that this intense high heat can easily damage your tresses if not used correctly. Excellent product protection for your hair is essential before smoothing a titanium plate over their delicate construction.
Tourmaline Plates – Ideal for those with curly, frizzy, or very wavy hair
Tourmaline is a gemstone, or, crystal compounded with elements such as aluminum, magnesium, and potassium. To make Tourmaline plates, this crystal is ground and made into a powder which is then infused with the ceramic used to make the straightener plates. This results in a straightener that tames the look of frizziness and static whilst also reducing the visibility of damage to the hair. The Herstyler Straight N' Style is a great example! 
You'll also find these straighteners are still super effective even at lower temperatures. This will mean your hair retains moisture much better, even when dealing with this direct heat. Use these if your hair is damaged already, or damages easily.
Think About The Width You'll Need
If you happen to be blessed with the voluminous tresses of a Hollywood movie star, your needs will differ greatly from those with, equally beautiful, yet thinner, more feathery locks.
With this in mind, be sure to think about the plate thickness you'll need to effectively straighten your hair. Of course, even the thinnest plates will eventually get through your endless layers of beautiful hair. But, how much of your time is that going to take up?! Too much.
Instead, if your hair is gorgeously voluminous and your strands are thicker than average, a wide plate will most certainly serve you best. That said if your hair is thick but on the shorter side, you may find a regular-sized straighter still works best for you. Why? Shorter hair often means you'll have limited movement from root to tip.
Those with thinner or much shorter locks might want to consider a mini straightener. More on that later…
Choosing A Straightener For Your Bangs
If you currently have or ever have had bangs, you'll know the struggle to tame them is all too real! They look great when you blow-dry them before bed, only to curl up and sit every which way when you wake up in the morning.
Sounds like you?
We feel your pain.
From chic full fringes to stylish curtain bangs, keeping the section that acts as your hair's centerpiece in shape (all day long!) is no mean feat. That's why we highly recommend investing in a pair of micro straighteners to make things easier. From sleek designs that plug directly into an outlet to cordless ones that you can charge up, slip inside a carry case, and keep with you in your purse for all-day access. The options are honestly endless, just Google it!
One thing's for sure, you'll wonder how you ever lived with bangs and without a mini straightener once you try it out.
Consider Investing In Two Differently Sized Straighteners
We know, we know. The whole point in thinking this all through is to find the one perfect straightener for your specific hair type. However, sometimes one straightener won't be capable of delivering every single thing you need from them.
Say for example you have tremendously long, beautifully thick hair that you love to straighten daily, but, you also love to use your straightener to curl your locks from time to time. A wide plate with a high heat setting is surely the best and most efficient time-wise for the days you want a poker straight finish. However, are those same wide plates going to offer what you need when it comes time to curl? We doubt it!
Now, we're not suggesting anybody has to or needs to buy two different straighteners. After all, they're not exactly the most inexpensive thing, and finding a spot for them within the valuable real estate of your dresser can be a pain. But, if you know you know just one won't do and you'll use both sets regularly to get the hair looks you love and feel great wearing, it's definitely something to think about!
Choose Your Straightener Based On the Styles Your Wear Most Often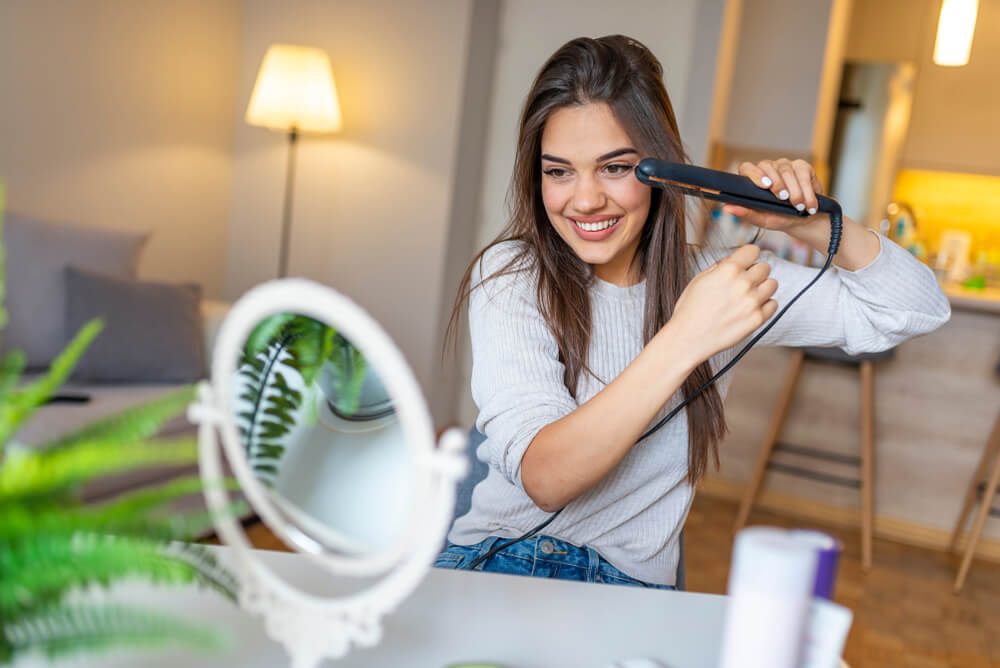 It's not just about whether your flat iron can make your hair straight. You'll also want to think about how you wear your hair throughout the week. Which styles you love to create most frequently, plus those you've always wanted to try out!
Perhaps your hair is very long and you love to slick it back into high ponytails that need extra straightening once they're secured. Maybe you have a bob and love to create soft beachy waves using your flat iron. Or, it might be your daily routine to reach for your straightener when your bangs look out of control each morning.
Whichever of these is true for you, make sure you're selecting a straightener that can deliver the results you need.
What's more, there may be styles you've always wanted to achieve but haven't been able to because your straightener wasn't hot enough, wide enough, or curved enough. Make sure to keep these styles in mind and do your research when the time comes to choose your next straightener. Make sure it's capable of delivering the styles you need before making it yours!
Consider The Color, But Don't Let It Sway You 
As tempting as it can be to simply choose the straightener that looks and feels the prettiest, chances are it won't always deliver the results you need just because it's your favorite shade. Choose a color that you love and that fits in with the color scheme on your dresser, absolutely! Just make sure it's going to deliver the results you need too. 
Think About How Long You'll Have This Straightener
If you do your research and are happy to spend a decent (but not necessarily huge) amount of money on your straightener, it's likely going to last you for a good few years.
With this in mind, you'll want to be extra careful about choosing. Think about the long term and what you need from a straightener not just now, but in the future. 
Will you be taking it on trips and therefore need something small enough to take up just a small amount of precious luggage space? Will you be using it to create a thousand different styles from curly to straight to waves? Maybe you only need a straightener on the odd occasion so don't actually need to spend much money just for sporadic usage.
Always read reviews and always think a couple of years ahead when purchasing!
Look At Your Price Range And Compare Reviews
Now we don't exactly need to tell you this but, before you look at potential straightener purchases, work out how much you realistically have to spend on them. There's no point in setting your heart on a certain brand only to discover they're hundreds of dollars more than you can afford when you get to the checkout!
Additionally, there is very good news regarding the cost of finding a new straightener. Unlike years ago when these heat tools were first on the market, there has been an unimaginable amount of research into what makes a great straightener. There've been huge developments in heat technology, how safe they are for your hair, plus the simple addition of making them much hotter and more comfortable to hold.
All of this research and work means there are literally thousands of different straightener models available to us in 2021. It also means there are plenty of amazing straighteners out there that will do exactly what you need whilst protecting your hair all at a price you can afford!
Damaged Hair? Could A Straightener Brush Be Right For You?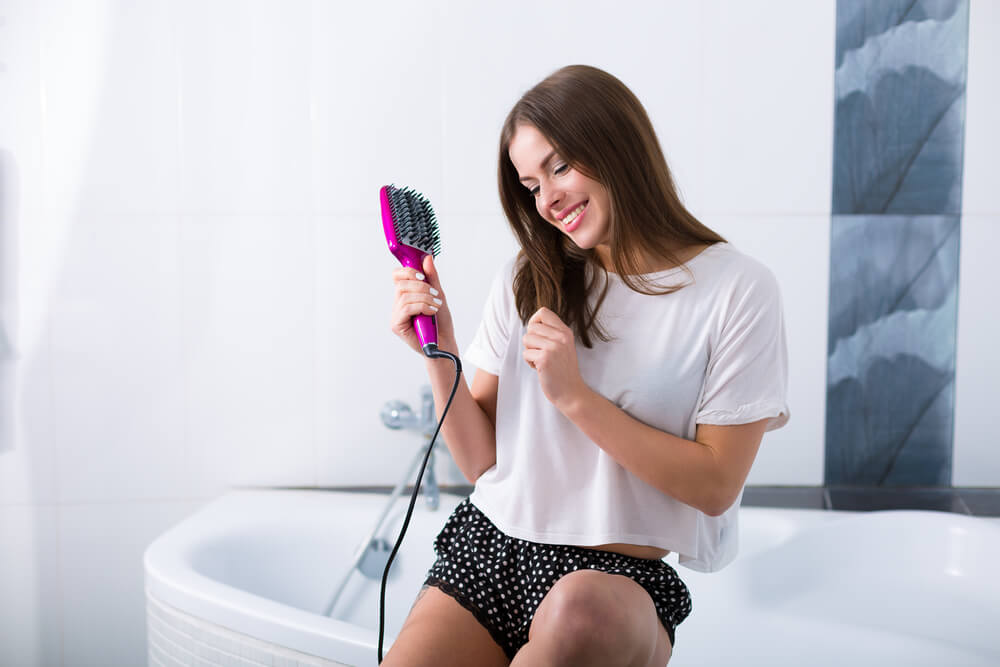 When we think of hair straighteners, we immediately think of two hot plates that press together and glide through our locks for a silky smooth finish, right? Well whilst this is all well and good, there are other options when it comes to getting the poker straight tresses of your dreams. Especially if your hair is easily damaged!
Enter straight brushes.
Now, if you've never heard of straight brushes before, don't worry. We're about to explain everything you need to know. If on the other hand you have but could never decide whether or not they're right for you, we have that covered too!
So, what exactly is a straightener brush? As you might have guessed, yes, it's a brush that straightens your hair. But how does it work? Straightener brushes are generally considered to be safer for your locks as the heat is easier to control.
How?
Let us explain…
Rather than two plates clamping down, squeezing on your delicate strands, straightener brushes work by allowing the hair to glide through heated bristles or slats. This evenly distributes heat and still results in straight hair. The difference is, there's no prolonged exposure to double-sided heat.
What's more, many straightener brushes have a tourmaline coating which is the kindest form of coating for delicate hair. So, be sure to look out for that feature when purchasing yours!