News
Most Stylish Hair Accessories For Women
by Shopify Partner on Oct 19, 2022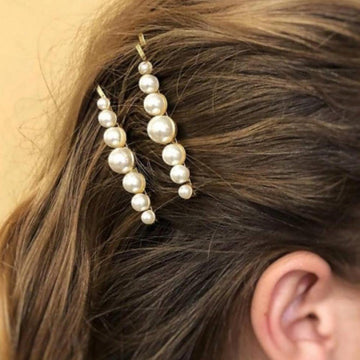 Long, short, straight, curly or wavy, a lady treasures her hair more than any precious jewellery she owns. For one, they're irreplaceable.
But are you sensible enough to understand the importance of quality hair accessories? While your darling tresses are more than capable of stealing the show all on their own, however, even they get tired of completing your look with no help. I say let's give the pretty locks some rest and bring in the style-squad.
From hair ties to headbands, clips, pins to Barretts and so on... these are the 26 best hair accessories a woman should own.
Hairbands & Headbands For Women
Headbands are very popular when it comes to slaying a vintage look. It's one of the best hair accessories for girls which never goes out of style. Be it the task of holding our tresses back or adding jazz to a regular outfit, a pretty hairband or headband can do it all.
1. Pearl hairband
Pearls have been in women's closets for as long as we can remember. They're one of those sophisticated gemstones that add charm to your personality much like these pearl hairbands. A fine addition to a woman's hair accessory collection, pearl hairbands can be put to test when you need to pretty up your party-fit or a fancy dinner look. Wear these with laced dresses, tops and more especially with a jewelled neckline. 
2. Knot hairband
Do knot underestimate the power of fashionable hair accessories for women. Particularly the versatile ones. They're refined but with an added sass. Style it with your messy buns and middle-part hairstyles for a look on the go. They are great for amping up a simple brunch look. Knot hairbands are meant to be silk or velvet, however, I'd give a green signal to subtle printed ones as well.
3. Braided hairband
A step further to knot hairbands, braided hairbands are the latest fad in the hair accessory for the girls' department. They're super stylish and extremely gorgeous. These can be used to jack up an otherwise plain outfit. It's a lovely hair accessory mostly worn with bland workwear clothes or a very basic t-shirt/shirt dress. With these crowning your head, no extra jazz is needed. Buy braided hairbands in pastel shades and you're good to go. 
4. Tiara-style hairband
Here's your chance to feel like a princess! Tiara-style hairbands have been amongst us for a long time now, and they have managed to steadily get better with time. They're artful, elegant and super cute. It's a hair accessory for women befitting all sorts of party/wedding outfits. Furthermore, these hairbands for women go with any length and quality of hair. If you ask me, a tiara-styled hairband is a winner hair accessory every girl should own. 
5. Jewelled fancy hairbands
More of a rager, jewelled fancy hairbands are a top-of-the-line hair accessory for women who like to set trends. These are big, chunky and frankly tricky to style. However, one certain thing about owning these fancy hairbands is that they'd look best with loose, slightly wavy hair. 
6. Bow hairbands
An occasion is made brighter and happier with bows. The whimsy is true for bow hairbands. It's a part of a hair accessory for girls that are adorable. You add these with any outfit and you've got yourself a fun look for travelling, brunch dates, party plans and so on. The only part where you need to tread lightly with bow hairbands is the type. There are so many to pick from. My advice; go either with the velvet ones that compliment a messy high-bun or a slim one/printed Barrett to add class to loose hair. 
7. Printed headwraps for ladies
Headwraps are a great hair accessory for spring and summer! They look super-chic with t-shirt dresses, maxis and long shrugs. And I don't have to tell you that these might be one of the best outfits for the hot days. Styled in a myriad of ways, headwraps are fun to experiment with and are very comfy. Mostly coupled with long, messy hair to create a boho-chic look perfect for brunch dates, a day-out with girlfriends or for a fun visit to the beach. A cute bow-knot at the top will keep the ensemble cool and classy all through the day.  
Hairclips & hairpins for women
It's funny how two of you just tick. Hair clips and pins are the only ones for us. I suggest you keep this list and the best trends close.
8. Shape clips
Shape clips are also a part of the latest hair accessory for womens' trends and for that, I am glad! A minimalistic accessory every lady should have at her disposal all the time. These are quite handy and adorable to wear. Pick a shape you love, pair it with your buns, loose or half-tied hair, and make heads turn! 
9. Pearl-white beaded hair clips
The charismatic grandeur of pearl is known to all and they go interestingly well with chic and classy ensembles. These hair clips for girls offers a rich, classy look with a pinch of elegance. Use these to complete your first-date look or a super-cute party outfit. 
10. Stone studded letter hairpins
Stone studded letter hairpins are a glam jam for the hoarder of stunning hair accessories for women. These letter hairpins are just a few years old and they don't fail to show off the sassy, OTT side of you. A single pin or maybe two with words so wise that they describe you are enough to make a fashion statement. These work out best with a fancy outfit specially made for rocking parties. 
11. Novelty bobby pins
Simple and minimal. This hair accessory is both effortless and nifty. The novelty bobby pins go with every outfit you own, formal, casual, fusion and party. Whatever may be your hairstyle, these pins will not only help you tie those loose ends but also pretty up the entire hairdo. There's no doubt that novelty bobby pins are a must-have hair accessory for every female on this planet. 
12. Printed hairclips
Long or short, printed hair clips are a lifesaver when it comes to arranging hair accessories for women in the order of usage. Keep a pair or two in your purse, in case there's a hair-related emergency. From crop tops to t-shirts and jeans, these hairclips compliment all your casual outfits with zero effort. And as far as the prints are concerned, you might want to stick to animal and floral ones as they offer flexibility in terms of styling.
13. Embellished Barrett for girls
I personally don't mind basic Barretts but if you ought to own a tasteful hair accessory, I think there's nothing better than these thrifty adorned ones. They're simple and at the same time dreamy and gorgeous. This is another must-have fashionable hair accessory for women. You can pair these with every outfit you own. Yes, even the formal ones. 
14. Bow clips
Bows were one of the quintessential hair accessories for women that never go out of style. They still possess the old-world charm we never get bored of. It's a fashion commitment you don't move on from. They're super cute, too adorable and mostly go with sundresses and casual brunch-date outfits. 
 Pretty hair-ties for women
A lady can change the world when her hair is all tied up. And if you give her nifty little hair accessories to do that, she'll be grateful and even happier to do it. 
15. Printed scrunchie
Don't you just hate it when your hair tie leaves an ugly dent or pull out your precious hair strands for no reason? It was a common problem amongst womankind until scrunchies came into existence. They are soft on our tresses but hold three times more volume which, technically is pretty impressive. More than that, scrunchies are an important part of the hair accessories for women list because you can't go living a life without at least a bunch of these in your drawer. However, to make a style statement, remember to pick the cute, printed ones. 
16. Scarf scrunchie
It's a scarf, it's a scrunchie... well it's both. A game-changer in the hair accessory for girls' treasury, scarf scrunchies are taking the world a step further. Not only are these hair ties practical but they're also easy to wear and extremely adorable. A cute printed scarf scrunchie goes a long way with all sorts of casual ensembles especially the ones involving baggy jeans and other denim setups. Use these on half-tied hair, low or cat-buns to stand out. 
 17. Bow ties for hair
I can't stress this enough, bows are beautiful! After headbands and hair clips, bows also make a fashion statement as a hair tie. There are several colours, designs and materials available to choose from and that's the best part. Even with abundant choices, you can hardly go wrong with this adorable hair accessory for women. Use these on a high bun, half-tied hair, ponytail, pigtail and don't forget to keep the bow on the frontline. 
More hair accessories for women
Don't go, there's more...
18. Hair strings for girls
Long hair and like it that way? Well, here's a crafty idea to add spunk. Hair strings are one of the effortless hair accessories for women that don't take long to get noticed. One or two on each or on the same side and you're good to go. However, colours that will look good with almost all the outfits are white, blue, red and baby pink.  
19. Metal juda pins
A pin to hold the entirety of your hair. These Juda pins are nifty little hair accessories for women who like to keep it steady. Their life, the hair and everything else. Pair these with your suits, sarees or kurtas and look neat. 
20. Hair chains for girls
Hair chains are an underrated hair accessory for women. Usually worn by brides in India, hair chains have now been toned down to match occasions like parties and girls night out extravaganzas. Pair these with a short dress, maxi gowns at a party or concert and look like a dream. 
21. Hair wreaths or hair vines for women
These hair wreaths are everything you ever wished for when it comes to the best hair accessories for girls. They are available in various styles and patterns. You'll be spoilt for choices as it's challenging to pick just one. No party/wedding look is complete without a beautiful hair wreath. If you ask me, it's high time you buy one for yourself to upgrade your collection of hair accessories for women. Side note: These wreaths or vines don't usually agree with shorter hair. 
22. Hair Rings For Girls
Hair rings are a 21st-century girl's game. If side-braids aren't enough for a hairdo, add these cool hair rings to revamp your hairstyle. It's an out-of-the-box hair accessory for girls you should definitely try with a casual, grungy outfit for a much-needed edge. 
23. Hair Claw Clips
We've seen our moms hoard on hair claw clips for decades now and I think they're relevant to our generation as well. These look super-classy and elegant as opposed to the cheap ones we find at every shop. I recommend the Pinterest-perfect one since they're very gorgeous and along with serving their purpose, these hair claw clips add style and debonair to your formal outfit. 
24. Embellished Hair Comb Pins For Women
Back from the 90s, these embellished hair comb pins are a fresh take on the good ol' hair combs once worn by every lady. Today it's a go-to hair accessory for girls looking to complete their wedding/party ensemble. They're available in all shapes and sizes, and you can style them on loose hair, side/braided buns and many such hairstyles.
25. Crimp Beads For Girls
I recall these crimp beads from childhood. And let me tell you, they're still in if you know how to style them. Make a simple hairdo such as this or pin it up on the side or middle braid to add a little zest to your otherwise bland hairstyle.
26. Hair Ribbons For Ladies
If you think hair ribbons are only good for weddings, let me introduce this minimal hair accessory for women you will not get over anytime soon. As pretty as they make them, these ribbons look good with heavy and plain hairdos. If you're heading to a party or a wedding or even a cocktail gathering, adding this simple accessory to your hair will steal many hearts.